The Tree of Peace and Friendship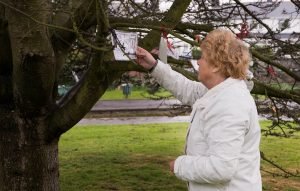 Proposal
To establish trees of Peace and Friendship in Vale parks and subsequently throughout Wales.
Background
A 'Tree of Friendship' was established at the Knap Lake and Gardens,Barry in May 2010. Since that date it has been embraced by residents and visitors alike. Many people have added a contribution to the tree and receive great comfort by its presence. Every summer a concert is arranged in the park to celebrate the idea behind the tree – 'The Friendship Tree Festival'. 100's of people gather to celebrate nature, the park and community. The tree promotes health and well-being in a gentle nurturing setting.
Establishing a Tree.
This is rather simple. A plaque is placed near the tree with a paragraph explaining what it is about and a couple of ribbons are tied to its branches to get the community started and that's it, just watch it grow. The information on the plaque also links to the art4uwlaes website offering further background information and images. It could also appear on the Vale of Glamorgan website linking to health and well-being.
 Development.
With Barry as the starting point, Peace and Friendship Trees could be established throughout Vale parks and beyond. The website will document the 'growth' of these trees and reveal the interconnected network. The development will be celebrated at the Festival in the summer.
Information for plaque (this can be edited to suit location if necessary).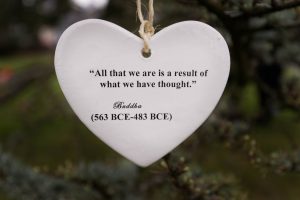 The Tree of Peace and Friendship.
Trees are the supreme symbols of dynamic growth, seasonal death and regeneration. Reverence for their power goes far back to primitive beliefs that god's and spirits inhabited them. This idea evolved in European folklore into the idea of the 'Tree-man' or 'Green- Man'. For the Celts the tree was held in high esteem and as something sacred, together with standing stones they became the focal point of many sacred places. As mythologies developed, the idea of the tree forming a central axis for the flow of divine energy linking supernatural and natural worlds took symbolic shape in the legendary Tree of Life – a cosmic tree, rooted in the waters of the underworld and passing through earth to heaven. Through the Tree of Life, humanity ascends from its lower nature toward spiritual illumination and release from the cycle of being. The symbol of an evergreen tree is particularly positive as it represents an everlasting life, undying spirit and eternal strength.
Please take a moment to tie something special to the tree to mark your connection with our community and someone dear to you.
For further information about other Peace and Friendship trees in your area, please connect with
www.art4uwales.org

.uk